The Honeynet Project Annual Workshop 2019
Innsbruck, Austria — July 1st–3rd, 2019
Location
The Honeynet Workshop 2019 will be held in Innsbruck. The capital city of Tyrol is a scenic town located in the heart of the Austrian Alps. Its best-known attractions include the Golden Roof, the Nordkette mountain range with its Seegrube and Haferlekar stations, and the Ambras Castle.
Venue
The Honeynet Workshop will be held at:
Hotel Grauer Bär
Universitätsstraße 5-7
6020 Innsbruck
Austria
During the conference days, the conference organizers will respond to participants calling phone # +43 677 6306 6206.
Travel
Getting to Innsbruck by plane
Innsbruck Airport (INN): The city airport is located in the western edge of Innsbruck and is directly connected to the city center by the IVB bus line F (12 minutes) and taxis. Daily flights operate to several international destinations, such as Frankfurt, London, Amsterdam, and Vienna.

Munich Airport (MUC): Direct connections to Innsbruck are possible by bus, train, minibus shuttle, or car in a timeframe of 2-2.30 hours. Daily international flights connect Munich to worldwide destinations including North America and Asia.

We have negotiated special rates for the minibus shuttle service available here. They will transport you right to your hotel.
Google Flights covers all major airlines flying to Munich and Innsbruck.

Discounted Travel with Lufthansa Group Partner Airlines
Lufthansa Group Partner Airlines offer a comprehensive global route network linking major cities around the world. We offer special prices and conditions to participants of the Honeynet Workshop.
For flights to Innsbruck or Munich between June 24th–July 12th, please click on www.lh.com/event-flight-booking and enter the access code ATZQWFD in the "Offer for discounted flights" area. These promotional fares are also available through your IATA / ARC travel agent. Travel agents can obtain ticketing instructions by sending an email to lufthansa.mobility@dlh.de an providing the access code as a reference.
Getting to Innsbruck by train
Innsbruck is located on a main European railway axis. We recommend the website of Deutsche Bahn for connection and timetable inquiries, although tickets may only be available from the Austrian, Italian or Swiss train services. Direct connections are possible from/to:
Austria: Vienna, Salzburg, Bregenz, Graz
Germany: Munich, Frankfurt, Stuttgart, Berlin, Düsseldorf, Hamburg
Italy: Verona, Bologna, Venice
Switzerland: Zurich
You can often find substantially cheaper tickets for the same connection on oebb.at. It's usually worth to do a quick comparison.
Getting to Innsbruck by car
Please note that a "Vignette" (toll sticker) is required for driving on Austrian highways (Autobahn). A 10-day sticker costs around € 9. More information can be found here.
Innsbruck is located at the intersection of two major European traffic links:
Autobahn A12: from the West (Voralberg, Switzerland) and the East (Munich, Salzburg, Vienna)
Autobahn A13: from the South, continuing the Italian A22 highway. From the border until the Innsbruck-Süd exit the Vignette is not necessary, but a toll is applied; after Innsbruck-Süd, the Vignette is needed.
Getting around in Innsbruck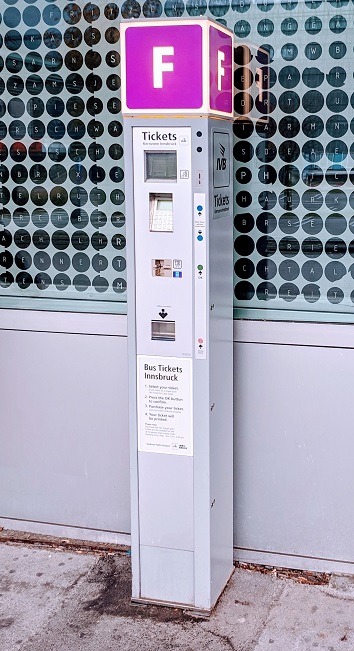 Accommodation
The conference venue hotel holds a limited room block for participants at negotiated rates:
Single room incl. breakfast, € 99 per night
Double room incl. breakfast, € 140 per night
Use this form to make a reservation at the conference hotel. The cutoff date for the negotiated rates is May 15th, 2019.
Alternatively, the conference venue is located right in the city centre with a variety of hotels in 10 minutes walking distance.